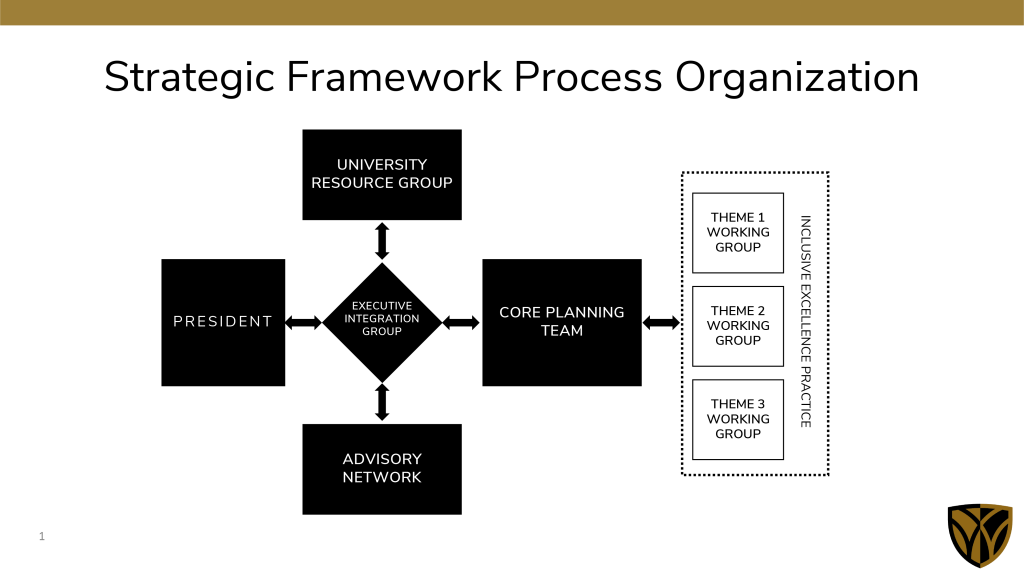 Core Planning Team:
Provost Michele Gillespie will chair, along with three faculty vice-chairs. They will lead a representative faculty and staff group in the significant endeavor of translating the collective input on our distinctions into a focused set of themes, with our future vision at the center.
View the full team

Chair

Provost Michele Gillespie

Vice Chairs

Amanda Griffith, Associate Professor and Chair of economics
John Knox, Henry C. Lauerman Professor of International law
Corey Walker, Wake Forest Professor of the Humanities and Director of African American studies.

Members

(in alphabetical order)

Phil Anderson, Associate Teaching Professor, School of Business
Grey Ballard, Dunn-Riley Faculty Fellow and Associate Professor of Computer Science
Shea Kidd Brown, Vice President for Campus Life
Regina Cordy, Assistant Professor of Biology
Mary Foskett, Wake Forest Kahle Professor, John Thomas Albritton Fellow, and Chair of the Department for the Study of Religions
Michael Gross, Professor of Engineering and David and Lelia Farr Faculty Director for the Center for Entrepreneurship
Philip Howard, the Joseph M. Bryan fellow in Banking and Finance and Assistant Professor
Ana Iltis, Carlton Professor of University Studies, Professor of Philosophy, and Director of the Center for Bioethics, Health, and Society
Nina Lucas, Professor and Chair of Dance and Theatre
Gregory Parks, Professor of Law
John Sumanth, James Farr Fellow and Associate Professor of Management
José Villalba, Vice President for Diversity and Inclusion and Chief Diversity Officer
Jonathan Walton, Presidential Chair of Religion and Society, Dean of the School of Divinity and Dean of Wait Chapel
Thematic Working Groups:
By taking deep dives into each respective theme, they will bring back to the Core Planning Team an analysis of where we are currently and where we should focus forward in terms of our current, emerging and aspirational distinctions.
University Resource Group (URG):
Led by Senior Advisor Julia Jackson-Newsom and comprised of senior administrative and staff leaders, this group will define our current and future capabilities and capacities in the domains of space, people and financial resources such that our Strategic Framework is actionable.
View the full group

Abigail Brumfield​, ​Director of Strategic Initiatives, Campus Life

Stephanie Carter, President, Staff Advisory Council; Director, Residence Life & Housing

Brett Eaton​, ​Senior Associate Vice President, Communications & External Relations

Phil Handwerk​, ​Assistant Provost, Office of Institutional Research

Beth Hoagland, Senior Assistant Provost for Budget and Administration

Malika Roman Isler​, ​Associate Vice President for Inclusive Excellence, Office of Diversity and Inclusion

Dedee Delongpré Johnston​, ​Vice President for Human Resources and Sustainability

Eric Maguire, Vice President, Enrollment

Hof Milam​, ​Executive Vice President

Mur Murchane, Vice President for Information Technology & CIO

Emily Neese​, ​Vice President, Finance, Strategy and Planning

Tim Pyat​t, ​Dean, Z. Smith Reynolds Library

John Shenette​, ​VP for Facilities and Campus Services
Advisory Network:
Vice President Mark Petersen will lead this network, which will enable the input of our alumni and key supporters. This will also provide a mechanism for capturing the expertise in strategic thinking that rests within our Board of Trustees, and our Boards and Councils across the University.
View the full network

Don Flow, Trustee

Curt Farmer, Trustee

Marybeth Hays, Trustee

Gary Pinkus, Trustee

Serena Dugan, Trustee

Jermyn Davis, Trustee

Mit Shah, Trustee

Jim O'Connell, Trustee

Hannah VanderWiede Shue, Trustee
Inclusive Excellence
Embedded in this work, President Susan R. Wente has charged Vice President José Villalba to regularly convene with the Core Planning Team and with representatives from each of the Thematic Working Groups to ensure that best practices in promoting inclusive excellence are woven throughout the resulting cohesive, actionable framework.